Dota 2 Feature: Rising tides; SEA Dota 2 scene still going strong
In contrast to North America which struggles to keep players and organizations actively engaged in the scene, interest in Southeast Asia continues to rise. 
In 2015 Valve introduced Majors to Dota 2 competitive play. The goal was to implement a transparent infrastructure and provide markers for The International. It also raised the standard of events and injected more financial support into the scene aimed at growth, stability, and security.
It was the first step in a long evolution toward the development of the Pro Circuit. 
Since then a SEA-based team has taken home only two championship titles. Mineski in 2018 at  Dota 2 Asia Championships 2018 and TNC at MDL Chengdu Major in 2019. 
Twice out of 25 possible Majors. 
An International championship title never quite panned out for Southeast Asia. 
Only two top-three finishes at TI's through the years are all there is to show for — Scythe Gaming's third place at TI 1 and Orange Esports' third place at TI 3.
Former pro player, Wong "ChuaN" Hock Chuan was the first and only Malaysian and Southeast Asian to ever take home the Aegis back in TI 2.
Aside from that, the only Southeast Asian players that have ever come close to lifting TI once more have been Malaysian player Wei "xNova" Yap competing for PSG.LGD at TI8 with a second-place finish and TI9 with a third-place finish and another Malaysian, Cheng "NothingToSay" Jin Xiang, playing for PSG.LGD at TI2021 when he came in second place. 
Yet despite the lack of championship titles in the DPC or The International investors continue to trickle in as demonstrated by both Blacklist and Bleed Esports entering the Dota 2 scene this season.
Contrast to NA which was the runner-up team six times and took home the Aegis of Champions in 2015 but continues to decline as more teams, organizations, sponsors and players exit the stage. 
Why is that?
What makes the SEA Dota 2 scene so much more appealing than North America even though neither region can boast the same success as Europe, Eastern Europe, or China?
Well, for one thing — overall esports interest and involvement across the region.
The esports and gaming industry is expanding rapidly and becoming more recognized as a source of entertainment.
According to Niko's esports in Asia report published in July 2022, Asia accounts for more than 57% of the $1.1 billion dollar global esports market, and the gaming industry in the Greater Southeast Asia region is estimated to be worth $8.3 billion USD by next year in 2023.
There are approximately 100 million esports viewers throughout Southeast Asia.
Viewers with billions of dollars in worth mean more interest from brands looking to associate themselves with teams and organizations in esports through a range of sponsorship deals. 
Global non-endemic brands are seeking (and already have started to) penetrate the market with partnerships such as FWD, Marriot Bonvoy, McDonald's Philippines, Franklin Templeton investment groups, etc. 
Although gaming youtube and content creation drive much interest, hype and viewership, according to Niko, 60% of SEA gamers are strongly drawn to esports, with a preference for games that foster community, teamwork, and competition.
ONE Esports recognizes how their SEA community is one of the most attractive customers to engage with due to their passion, and generosity in their money and time spent consuming esports. 
They leveraged that insight and announced a partnership with a global investment management organization Franklin Templeton. As part of the deal, Franklin Templeton sponsored the Wild Rift SEA Championship 2021 in September.
That also leads to an active interest in esports tourism.
For SEA countries to boost their tourism economy, esports is a viable option for them to bring in visitors. Interest continues to grow to host large-scale international offline tournaments for both teams and fans to travel and experience the atmosphere of a live esports tournament. 
This year Dota 2 intends to bring the first Major to Bali, Indonesia this summer. Bali is also currently hosting the IESF World Championship 2022. 
With the increase of interest in the market and more sponsorship deals and partnerships, more opportunities arise. More events (online and offline) are created, more leagues, and more chances for players to compete, make some money, and grow in the competitive scene. But also more hope is fostered for the next generation, creating an influx of new players and future champions. 
Out of 20 players hailing from the SEA region at The International 2022, a total of seven were International debutants and seven different countries were represented. 
Souliya "JaCkky" Khoomphetsavong became the first Laotian player to attend The International.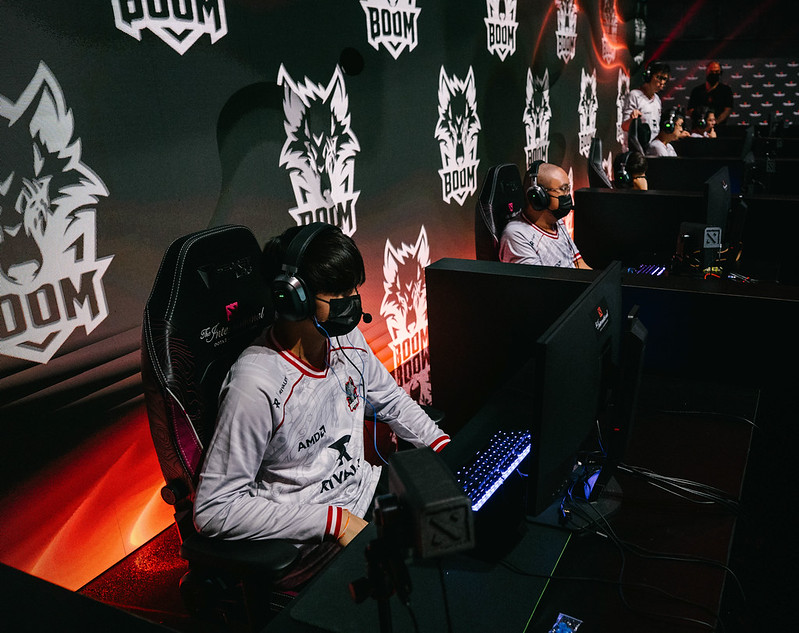 By all indications, Dota 2 is far from a 'daed game' in Southeast Asia. On the contrary. It continues to grow and flourish with new players, new orgs, and new events to look forward to and be hyped about. 
So while the future of Dota 2 and potentially esports, in general, seems to be shrinking in North America, the tides are rising in SEA and seem to be surging forward to a strong future. 
Perhaps one day a SEA team will seize the Aegis of Champions.