Dota 2 News: Evil Geniuses first to secure upper bracket on Day 3 of TI11 Group Stage
Evil Geniuses secured the top seed of Group A and are the first team to secure a spot in the upper brackets at The International 2022. 
WhendidEGlastthrow.com might be out of business —for now.
The once (and now maybe again) NA giants, Evil Geniuses, have had an impressive showing at The International 2022 in the group stage. 
They 2:0'd every team except for Team Liquid (who incidentally were on fire today as well).
Meanwhile, OG's captain Mikhail "Misha" Agatov disconnected during Game 1 vs Team Liquid —without a reconnect button or option. The pause lasted hours and when the game resumed, OG lost their advantage and momentum. Team Liquid turned the game around in a spectacular fashion and then continued to take the 2nd game win as well. 
PSG.LGD seemed to get through their penalties with little to no problems.
They only dropped one game today which was to Gaimin Gladiators.
And SA rising stars Hokori have been taking the group stage by storm. They dropped only one game (to OG) all day and have risen up the ranks to settle in for a spot in the upper brackets so far. 
But it wasn't all fun and games today, especially for Group A. 
Right after they forfeited the game, Royal Never Give Up announced on their Weibo page that their mid-lane player, Lu "Somnus" Yao, wasn't feeling well.
He then went to the hospital for some treatment for COVID and then PLAYED the remaining series from there. But the problems didn't stop there for RNG. It was revealed shortly after, that four of the five players and the whole staff crew tested positive.
Their second-place group rank plummeted as they lost every game today. 
There is only one more day filled with matches in the group stage. Day 4 will is set to begin at 10:00 SGT/04:00 CEST. Four teams will be eliminated.
The first matches are as follows:
Talon Esportsvs

Entity
Team Aster

vs

Team Secret
Thunder Awaken

vs

TSM FTX
beastcoast
vs
Team Spirit
Fnatic

vs

Tundra Esports
The International 2022 Group Stage Standings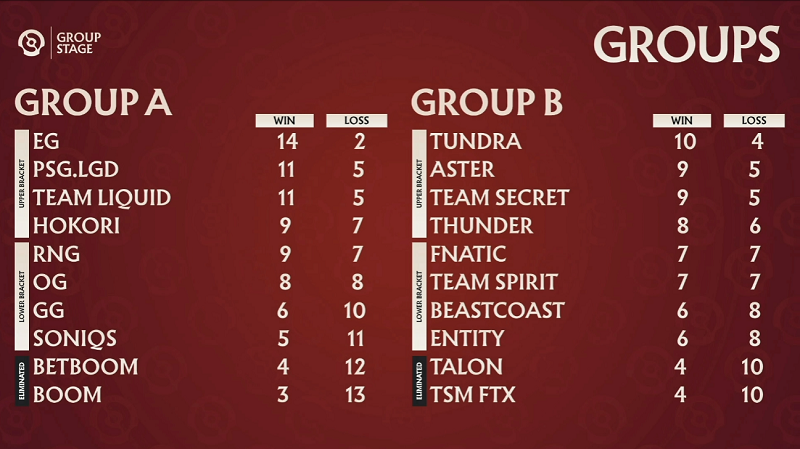 The International 2022 Group Stage Format
20 teams will start the journey to the grand finals tomorrow, October, 15th. Over the course of four days, teams will battle it out for the main event seeding and two teams from each group will fail to realize their TI11 dreams.
Group Stage – October 15th – October 18th, 2022

Two groups of ten teams
Single round-robin
All matches are Bo2
Top four teams in each group advance to the Upper Bracket of the Main Event
5th-8th place teams advance to the Lower Bracket of the Main Event
Remaining teams in each group are eliminated
The International 2022 Broadcasts
The event will be officially streamed in five different languages – English, Chinese, Russian, Spanish, and Portuguese. In addition, there will be other streams with various languages available for fans across the globe. 
English:
Twitch:  Main Channel |  Stream #2 |  Stream #3 |  Stream #4 |  Stream #5
Russian:
Twitch:  Main Channel |  Stream #2 |  Stream #3 |  Stream #4 |  Stream #5
Chinese:
Twitch:  Main Channel |  Stream #2 |  Stream #3 |  Stream #4 | Stream #5
Spanish Streams:
Twitch:  Main Channel |  Stream #2 |  Stream #3 |  Stream #4 | Stream #5
Portuguese Streams:
Twitch:  Main Channel |  Stream #2 |  Stream #3 |  Stream #4 | Stream #5
The International 2022
The International in Singapore will be the largest Dota tournament in history featuring 30 world-class teams battling out on the road to the Aegis of Champions across 4 consecutive weekends.
TI11 is expected to be held in Singapore from October 8th (starting with the offline/LAN last chance qualifiers) to October 30th with the grand finals. 
On 22nd January 2022, it was announced that the second and third-place teams from each region's qualifiers would compete in the Last Chance Qualifier LAN event prior to The International to decide the final two qualification spots – thus expanding The International 2022 from 18 to 20 teams.